a look back on paid search in 2020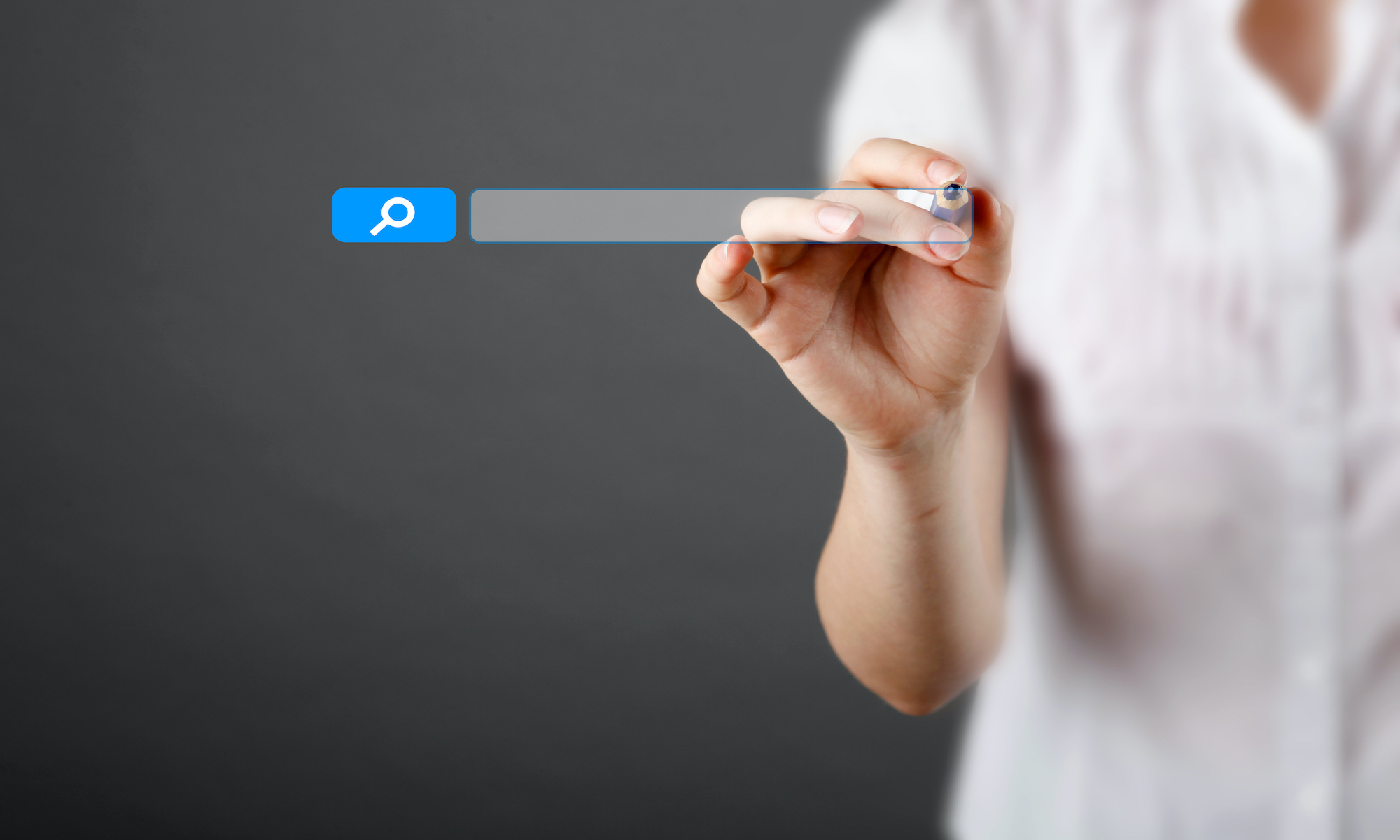 impact on the multifamily industry PPC performance
COVID-19 had dramatic effects on many industries but you can clearly see the impact on the Multifamily industry played out through the Paid Per Click (PPC) landscape.
Early into the pandemic, there was a sharp rise in renewals, allowing for short-term relief in 2020. Rent payments were not far off of 2019 numbers in April, May, and June, although there were some dips in July and August after federal unemployment benefits expired in July. Nonetheless, new lease volume change rebounded by May, and the multifamily industry didn't suffer nearly as much as other industries. 
Even heading into Q4 2020, more than two-thirds of the 150 core metros saw prices increase, occupancy held up, and apartment demand rebounded, making multifamily one of the more stable industries in the economy, boding well for pay-per-click advertising.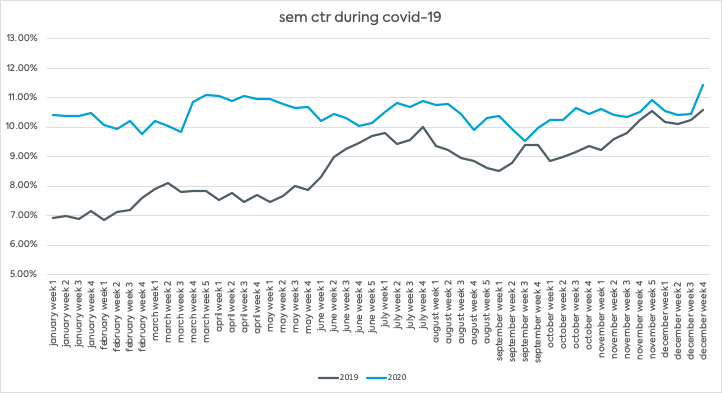 Compared to prior years, Click Through Rate in 2020 saw remarkable stability, with very little seasonal effect in the first three quarters of the year. However, around mid-September, as the majority of the country had loosened at least some of the lockdown measures seen earlier in the year, performance began to follow similar trends to previous years.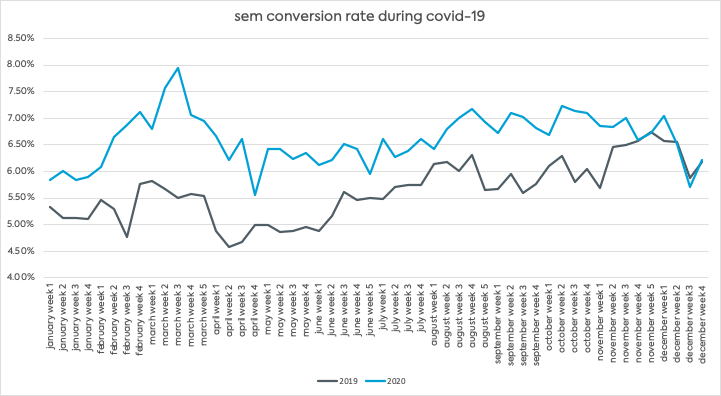 On the other hand, conversion rate was far more volatile, with changes of up to 0.50% week-over-week a common occurrence. However, even with this volatility, conversion rate followed similar trends to previous years, with Q2 being the lowest point of the year, with a slow and gradual upward trend over Q3 and Q4 of 2020. 
a client case study: how to beat the curve
Because the pandemic had resulted in lockdowns that made most tours impossible, we conducted an extensive re-write of all copy on ads, extensions, and landing pages for our clients. Communication with a specific client identified properties that had virtual tours or video tours available. Any mention of scheduling a tour was scrubbed and replaced with language to support taking virtual or video tours. Additionally, due to the constantly changing regulations on localities, searchers were often seeking more up-to-date information that could only be provided via a phone call. As such, the copy was updated to emphasize phone calls as a CTA along with virtual tours.  
Following the implementation of the actions mentioned above, the client's conversion rate in Q3 2020 rose 11% over Q2. Additionally, the fourth quarter's conversion rate remained higher than in the low points of Q1 and Q2 2020. 
conclusion 
To adequately react to catastrophic events, the first step will be to take an industry analysis. Ask yourself; will this industry be affected by these events, and if so, how? In the multifamily sector, there are few potential events outside of a real estate collapse similar to 2007-2009 that will dramatically reduce demand. Therefore, it is crucial to identify the areas that advertising will need to adapt to the fallout of a catastrophic event. 
---