OPTECH 2021 session – brand management: the art of telling your brand's story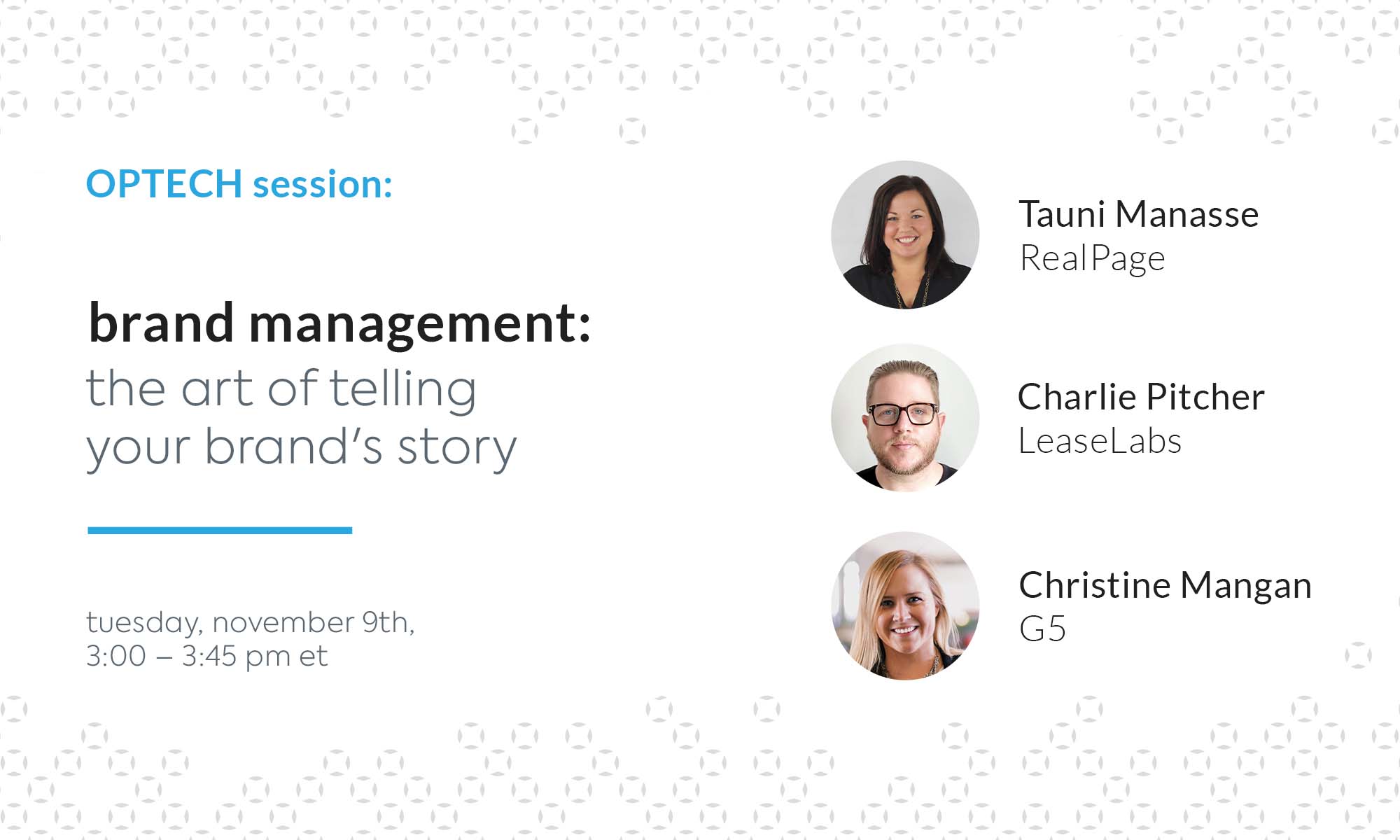 brand management: the art of telling your brand's story
 Tauni Manasse, VP, RealPage Consumer Solutions
Charlie Pitcher, Creative Director, LeaseLabs
 Christine Mangan, Creative Director,  G5
Tuesday, November 9th, from 3:00-3:45 PM ET.
One of the biggest take-aways from the past year is that a company's digital footprint is as important a first impression as a handshake with a leasing agent. Every multifamily company and property has a personality, but how do you make sure yours stands out both in-person and online? In this session, expert industry creative directors will share the lessons of their experience in analyzing and crafting plans for brand management. Join us for a hands-on workshop that explains how to identify and align the pillars of your brand with specific marketing strategies that represent the uniqueness of your company and communities. This engaging session will provide you with the process knowledge you need to authentically tell your brand's story and create advocates for your company in the process.
---
what is OPTECH?
OPTECH is an in-person 2021 Conference & Exposition geared toward decision-making executives with over 1,000 CEOs, COOs, CTOs, CIOs, VPs, etc. attending.  This year's OPTECH takes place at the newly renovated Gaylord National Resort & Convention Center in National Harbor, Maryland – just south of Washington, DC on November 8-10th.
---
At LeaseLabs, we convert the broken, disjointed customer journey into a single unified strategy. Our products are your multichannel marketing solution with only one goal in mind: driving qualified traffic directly to your website so you can convert leads to leases at a much higher rate.
Are you ready to take control of your brand?

---