why you should be using leaselabsone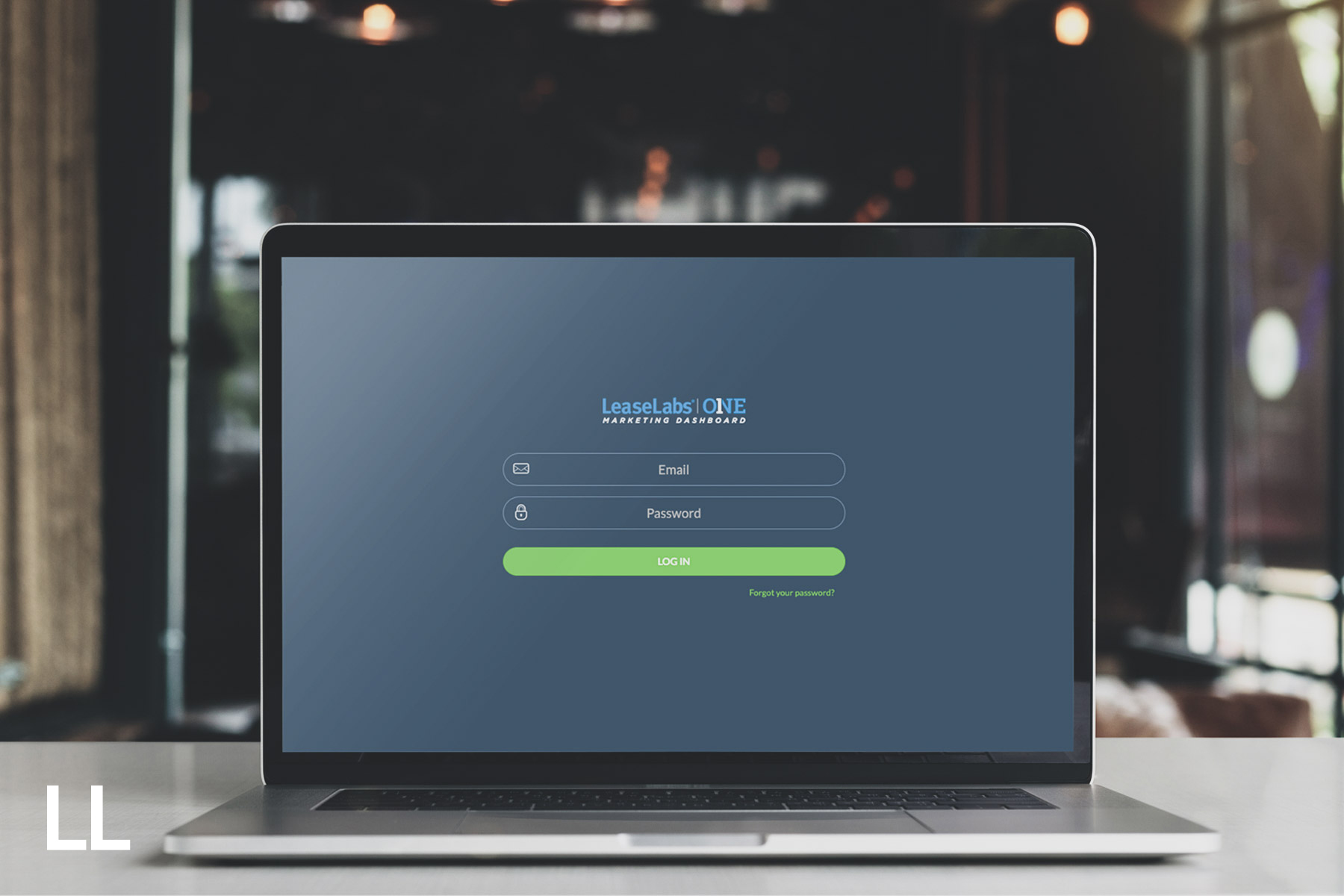 How do you gauge the efficacy of your digital marketing?
Do you log in to each social network to see data like reach and impressions while having to log into Google Analytics and Google AdWords to see your website and search engine marketing campaign data?
Do you learn how to navigate each overly complicated interface and then have to repeat for the multitudes of communities in your portfolio?
With Google Analytics, Facebook Insights and the plethora of other native dashboards, it can be easy to get lost in the numbers. Sifting through dozens of advanced dashboards when more often than not, the basic analytics will provide you with a comprehensive overview of your marketing initiatives.
If you have ever had this experience, you'll understand why we rolled out our industry-leading reporting dashboard, LeaseLabs ONE.
LeaseLabs ONE does away with the complexity and focuses on the most important KPI's for each of your campaigns.
With LeaseLabs ONE you can see marketing data across all of your campaigns in one glance and then dive into deeper data analysis on a per service basis.
If you manage multiple communities, you'll love our aggregate reporting feature that allows you to see how your entire portfolio is performing as well as more granular results on an individual property basis.
This customized marketing dashboard is available to all of our clients who sign up for one or more of our digital marketing products, including Search Engine Optimization (SEO), Social Media Optimization (SMO), Search Engine Marketing (SEM) and GeoTargeter.
If you don't currently have digital marketing services with us, but are interested in the dashboard, contact us to learn how we can help you better understand your digital marketing.   
services overview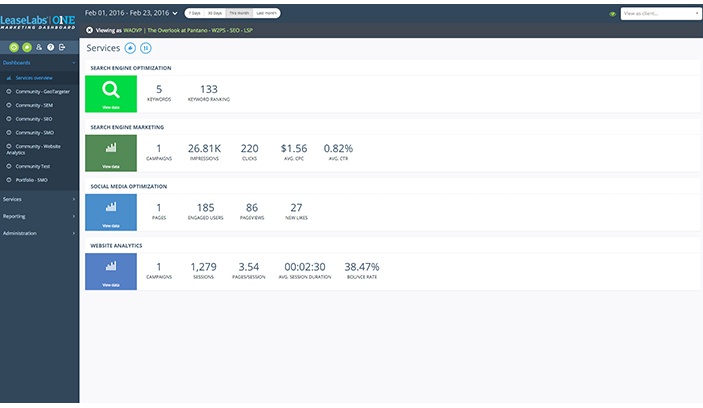 Upon logging in, you're greeted by the services overview page where you can quickly and easily view a high-level overview of all of your marketing initiatives' performance.
See the dashboard in action in this 2-minute overview video.
geotargeter
From the GeoTargeter dashboard you can view daily impressions, clicks, key performance indicators and ad performance. You can also see how well individual ad creatives are performing as well as how well your ads are performing on any of the 250,000 apps and websites on our ad network.
GeoTargeter Video    |     Learn More About GeoTargeter
search engine marketing
When you head over to the SEM dashboard, you'll get access to your most valuable statistics all in one place. Review your clicks,  click-through rate, average cost per click and more. Dive deeper into your analytics by reviewing your top performing ads and keywords.
Search Engine Marketing Video    |     Learn More About Search Engine Marketing
search engine optimization
In a similar fashion to the SEM dashboard, your SEO dashboard provides a high-level overview of your search engine optimization activities. You can view quarterly performance trends, keyword ranking and page placement (the lower the better), and year-over-year performance for a more comprehensive understanding of how SEO is pushing your business to the forefront of search.
Search Engine Optimization Video     |   Learn More About Search Engine Optimization
don't just take our word for it
"The LeaseLabs ONE dashboard makes it extremely easy to look up website analytics, SEO and SEM stats at a glance. It's far less cumbersome than excel spreadsheet, and it's easily shareable and understandable for executive level reporting." – Jenn Williams, Harbor Group Management Company
social media optimization
On the social media optimization dashboard, you can review a real-time overview of your social media campaigns. You'll see critical Facebook insights like top performing posts, total likes, total reach, number of engaged users and more. When you click on a post, you'll be able to see exactly what the viewer was shown natively on Facebook. Our team uses this data to create a more comprehensive and engaging social strategy as well as keep your team looped into what's performing well on social.
Social Media Optimization Video     |    Learn More About Social Media Optimization
website analytics  
Much like what you would find in Google Analytics, our website analytics dashboard makes understanding your website traffic simple. Here you'll find key performance indicators such as sessions, average session duration, pageviews, pages/sessions, bounce rates and top traffic sources. Go deeper into referral traffic trends and quarterly reporting data.
reporting
LeaseLabs ONE makes reporting simple with the ability to export your dashboards. You can even automate reporting by setting up scheduled events under the reporting tab. Receive daily, weekly or monthly reports to stay on top of your digital strategy and better understand the return on your marketing investment.  
So why choose LeaseLabs ONE? Understanding your digital marketing is the key to developing a better strategy and increasing your return on investment. With the marketing dashboard, you can see the full spectrum of your digital initiatives broken down to provide you with the metrics that matter.
Interested in learning more about how you can use aggregate reporting to save time and money? Contact info@leaselabs.com today.
---