Wednesday November 9, 2016
6 must see apartment websites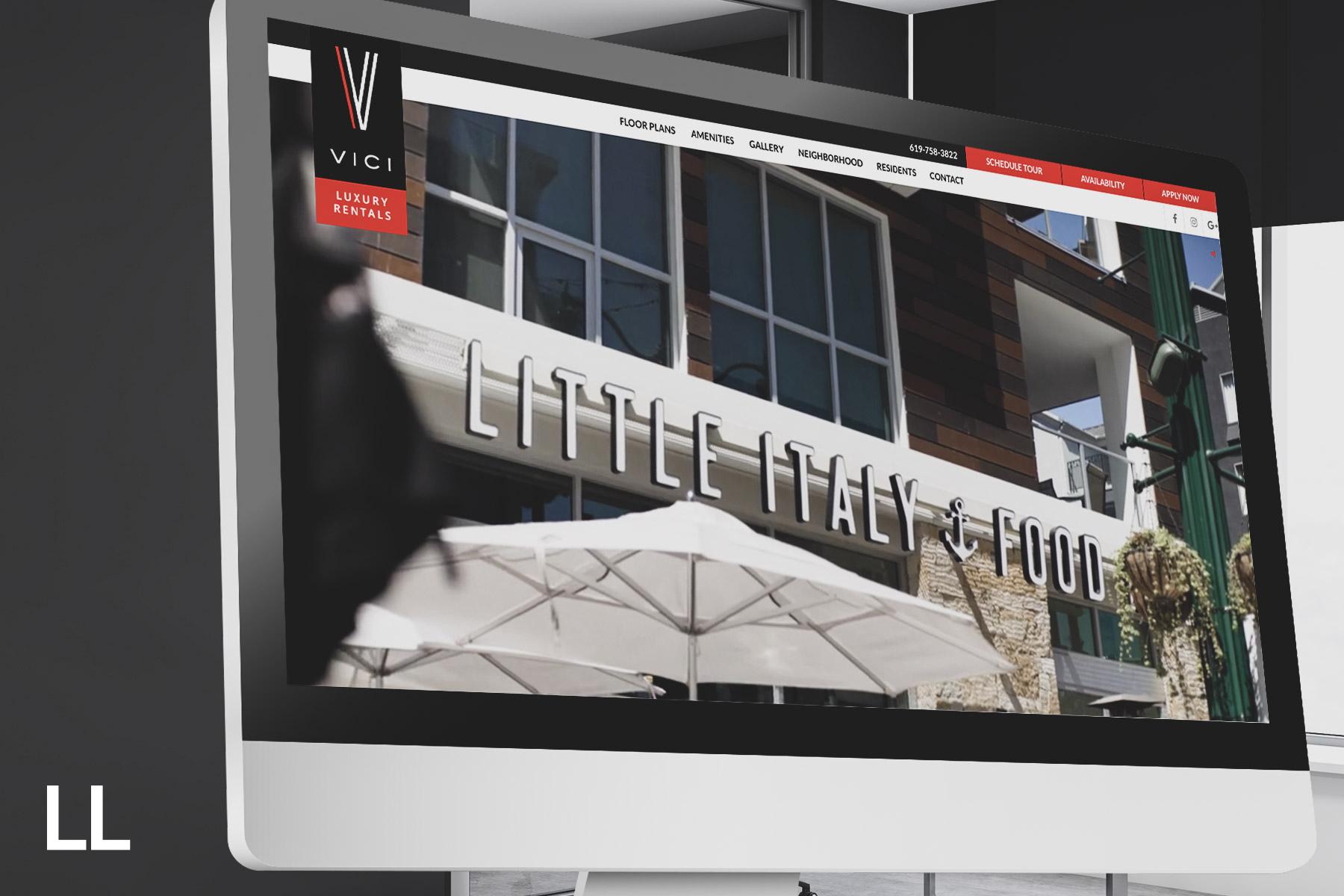 the lodge – university student living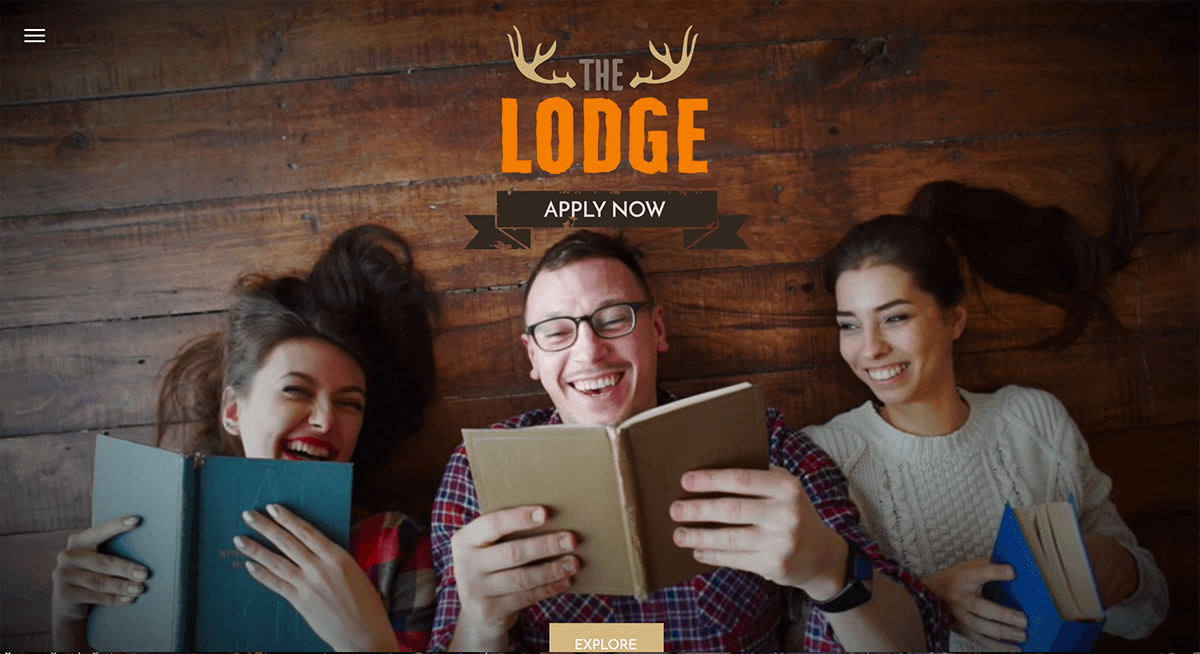 The Lodge is a premier student living community in Rochester, New York. Centrally located near five colleges and universities, The Lodge positions itself as a high-tech, modern sanctuary for students to grow personally and begin their professional careers after college. As a student living community, the website design needed to reflect the unique collegiate culture. To achieve this, our team designed a modern, sleek, and appealing website to attract millennials and their parents. For an intuitive user experience, the website was built utilizing Scrolling Page Architecture™ (SPA) design that allows website visitors to view floor plans, amenities, property photos, neighborhood info, and a contact page all with a single scroll.
View The Lodge website HERE.
echelon property group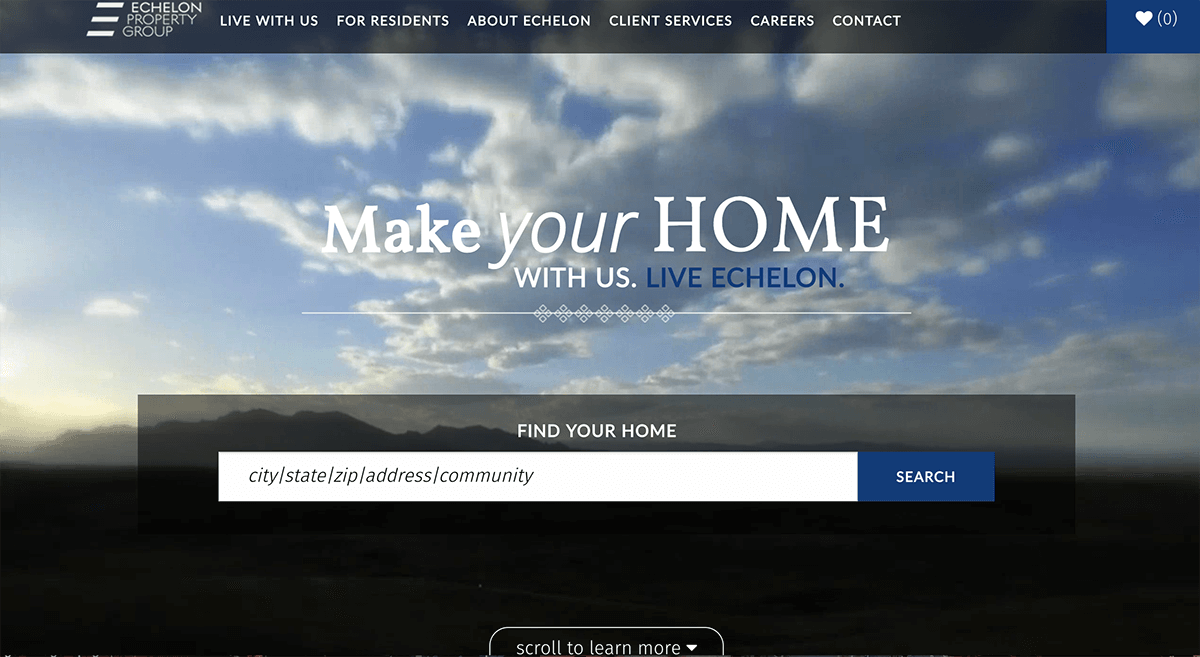 Echelon's portfolio of property websites took on a fresh, new look so it was only fitting for their corporate site to receive the same attention. Echelonrents.com needed to not only be a resource for prospective residents, but also position Echelon Property Group as an industry leading management company. Their site was carefully designed using vivid imagery and captivating design elements. Property search inquiries are clearly showcased above the fold on the homepage, creating a simple path for the prospect to find the right property.
View Echelon Property Group corporate website HERE.
block 36 – cpi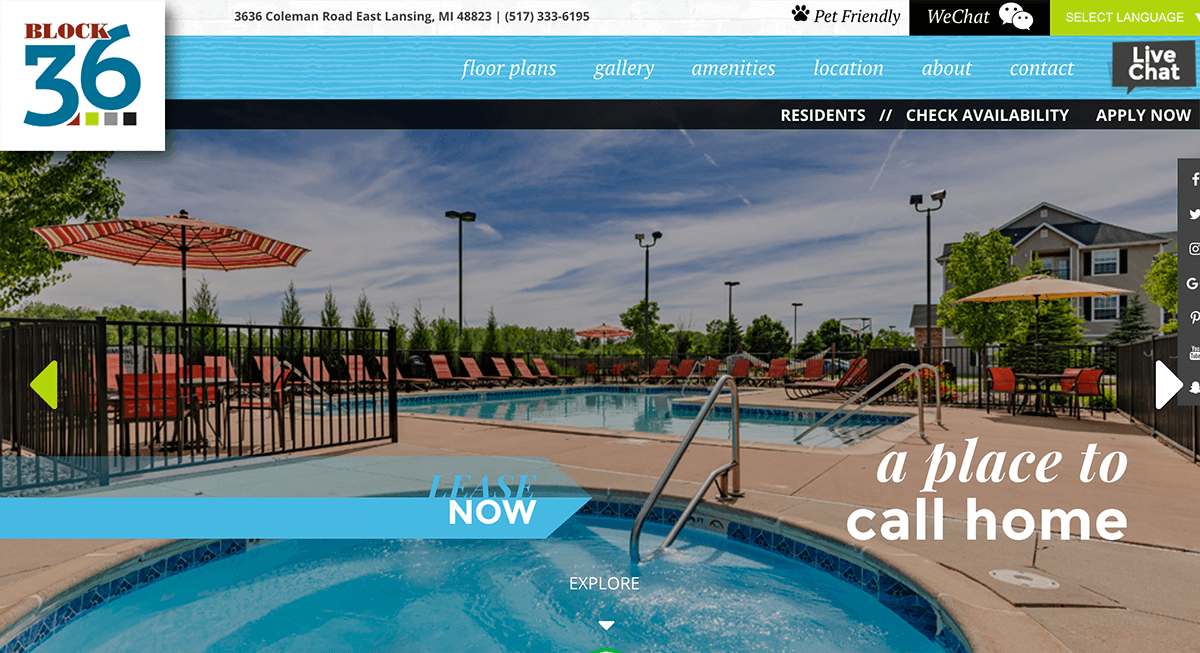 As a student housing community, Block 36 needs to appeal to mobile-first millennials. Centrally located near four colleges, Block 36 must stay competitive with neighboring competition and stick out to all new website visitors.  Their website reflects sleek, friendly branding made to match their current offline collateral. The website was built with Scrolling Page Architecture™ (SPA) and designed with clear calls-to-action, vivid imagery, and descriptive copy allowing for a fully optimized user experience.
View the Block 36 website HERE.
vici – h.g. fenton company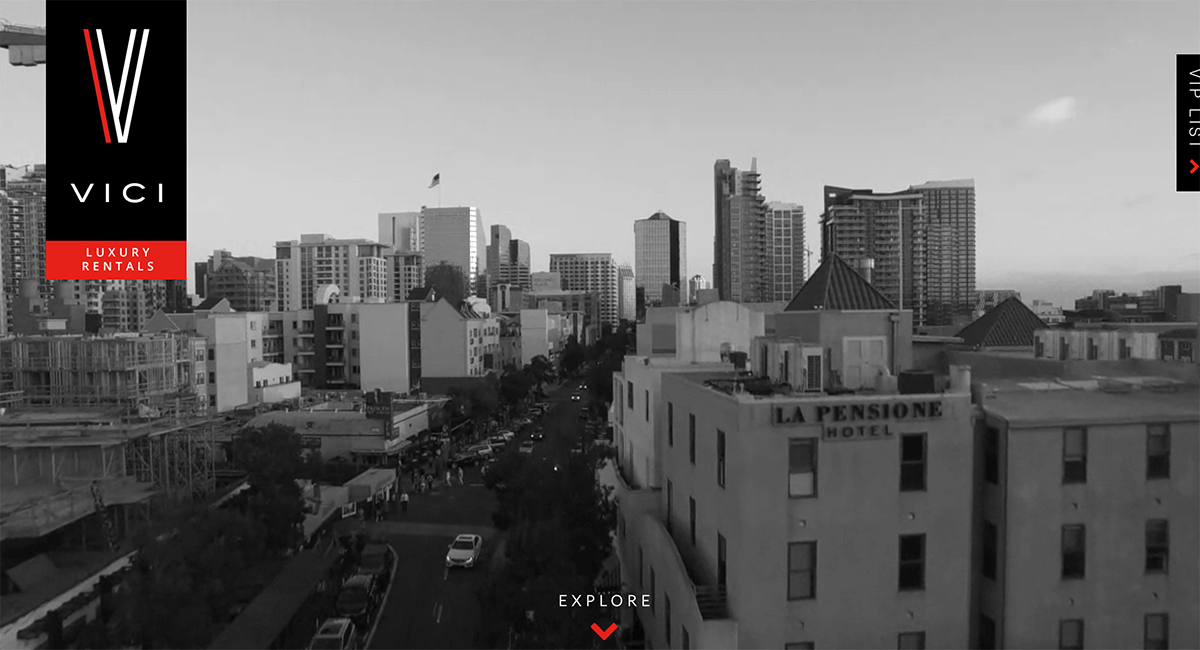 Vici, a luxury apartment community under construction in the heart of posh, Little Italy, San Diego caters to individuals who dare to live the ultimate dream. Vici sets the standard of luxurious living, so it needed a website to reflect the refined lifestyle and design. Skillfully crafted on Scrolling Page Architecture™ design, livevici.com greets website visitors with a full-width, drone-captured video above the fold to transport prospective residents into the Vici lifestyle. A bold color pallet, unique imagery, and sophisticated copy exemplifies the Vici brand.
View the Vici website HERE.
tempo evergreen walk – continental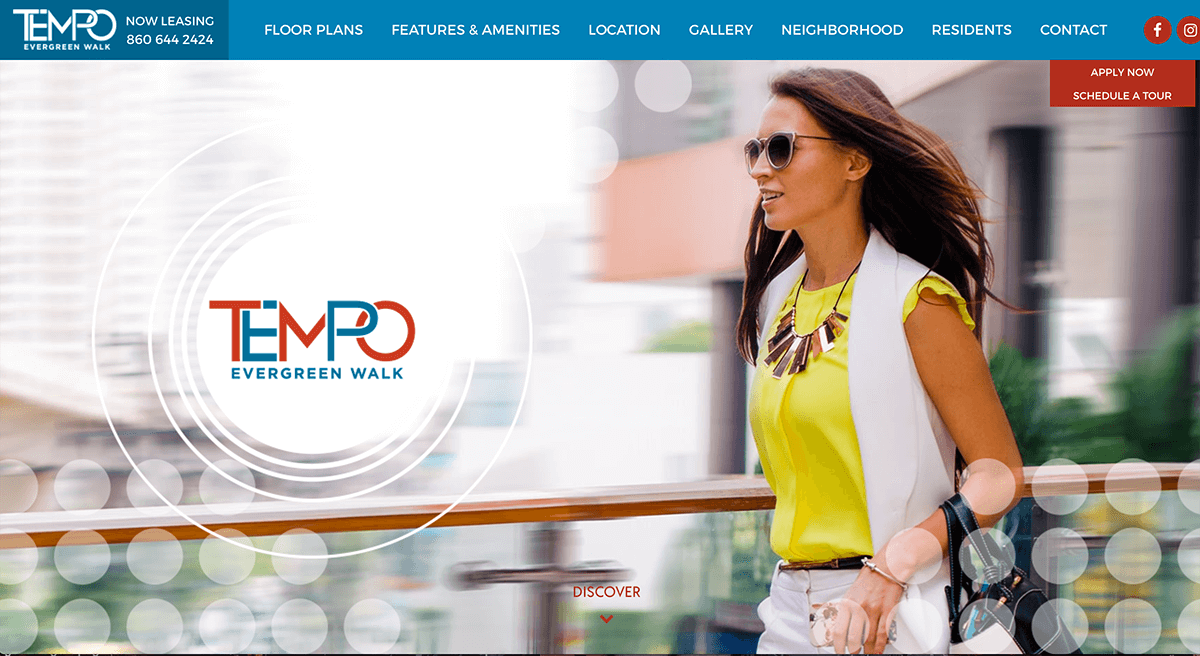 Tempo Evergreen Walk caters to working professionals who never miss a beat. To better serve their fast-paced lifestyle, our team built tempoevergreenwalk.com on Scrolling Page Architecture™ (SPA). This allows prospects to view floor plans, amenities, location, photo gallery, neighborhood, and contact form effortlessly with a single scroll. Bright, vibrant colors draw the eye to key features and descriptive lifestyle images.
View the Tempo Evergreen Walk website HERE.
the mckenzie – streetlight residential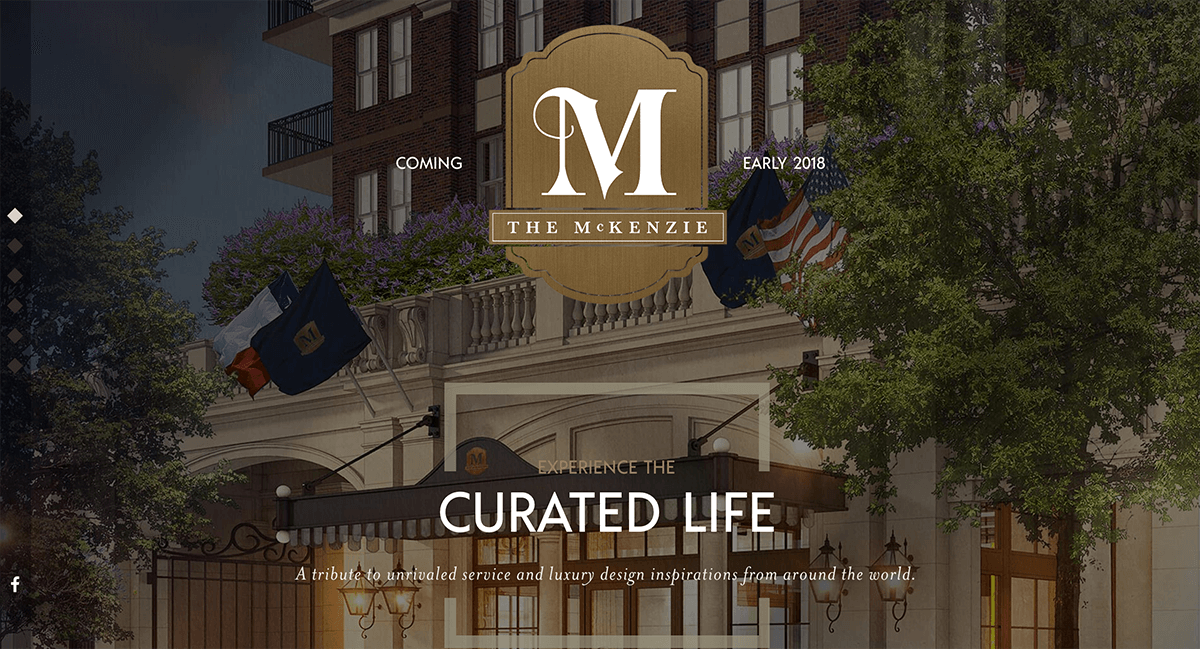 Currently under construction in Dallas, Texas, the upscale McKenzie will offer luxurious amenities, superior service, and quality finishes to this 22 story community. Acting as a first impression to prospective residents, themckenziedallas.com must capture the refined lifestyle and experience when residing here. Our team took the property's unique features and carefully crafted a design that matches their standard of service. From an elegant, soft color palette to captivating copy, there is no doubt this community will be memorable and distinguished.
View the McKenzie website HERE.
---